TS Imagine Announces Strategic Partnership with Eflow, Bolstering Regulatory Compliance Capabilities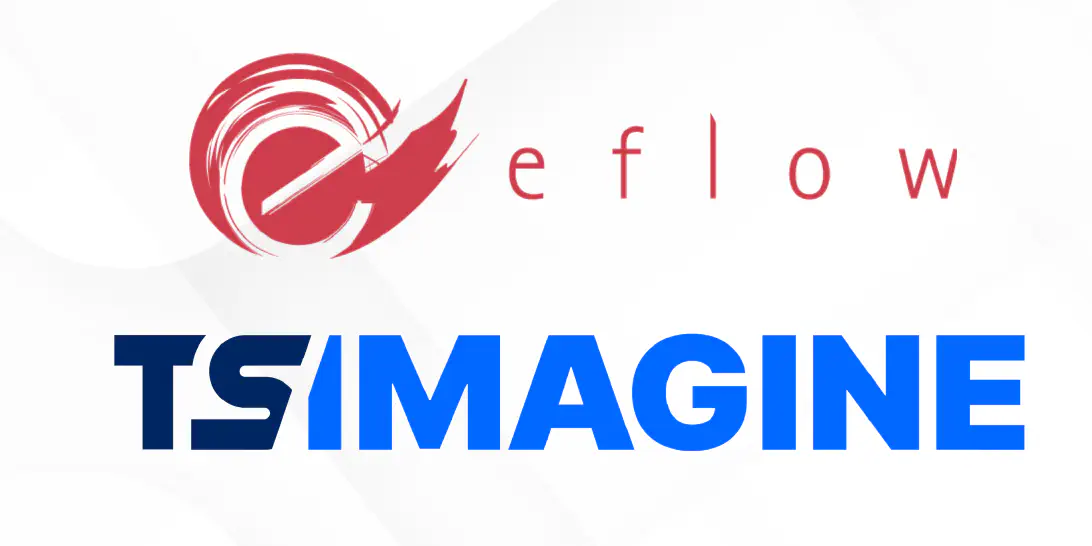 TS Imagine Announces Strategic Partnership with eflow
[13 September 2023] 
TS Imagine, a leading global cross-asset provider of trading, portfolio, and risk management solutions for financial services organizations, is excited to unveil a strategic partnership with eflow, a prominent provider of regulatory compliance solutions for the industry.
The partnership represents a significant step forward in TS Imagine's commitment to enhancing its offerings for clients, bringing trade surveillance capabilities into its existing suite of execution, order, and portfolio management solutions. The strategic collaboration will allow mutual clients of TS Imagine and eflow to not only meet regulatory requirements, but also proactively safeguard against market abuse and effectively monitor communications.
TS Imagine's TradeSmart OEMS product will highly benefit from the partnership, enabling seamless integration with eflow's solutions across all asset classes, resulting in a comprehensive and streamlined workflow.  
Alex Carteau, head of corporate development at TS Imagine, says, "eflow's reputation for innovation aligns with TS Imagine's commitment to delivering cutting-edge technology and solutions to our clients. This partnership bolsters our ability to provide a wide range of surveillance and market abuse tools, enabling clients to monitor their trading behaviour throughout the day".
Ben Parker, CEO and founder of eflow says "In today's fast-paced world, with constantly evolving regulatory landscapes and shifting customer demands, investing in compliance and regulatory technology is essential for financial services organizations. We at eflow look forward to working with TS Imagine as they continue to fulfill their commitment to clients".  
Recently, eflow's position in the market has been elevated, with recognition as one of the top 100 Most Innovative Companies in the field by Reg Tech 100.
TS Imagine's TradeSmart platform is recognized for its comprehensive connectivity, featuring pre-certified connections to over 250 listed brokers and venues, in addition to broker algos. This robust network provides significant value for clients, enabling them to access a broad spectrum of trading opportunities and liquidity sources.
ENDS
About TS Imagine
TS Imagine delivers a best-in-class SaaS platform for integrated electronic front-office trading, portfolio management, and financial risk management tools to the buy-side and sell-side. Formed following the merger of TradingScreen and Imagine Software in 2021, TS Imagine innovates by drawing on nearly thirty years' experience serving the world's most sophisticated financial services firms through changing markets and a shifting regulatory landscape.
The TS Imagine team is focused on developing technology that empowers its clients to succeed every day, in every asset class. TS Imagine employs the best technology talent, alongside former senior traders who understand first-hand their client's pressure points and how to address them. This complementary expertise, unique to the industry, enables TS Imagine to dive deep in areas such as data science, automation, and development. As a result, clients can focus on what they do best: generating and protecting alpha within fast evolving markets.
By offering a range of purpose-built solutions developed from the ground-up, TS Imagine technology has become an essential tool for the modern investor, working seamlessly across asset classes and geographies. With greater transparency, better efficiency, and infinite scalability, TS Imagine clients are empowered to circumvent distractions and avoid unnecessary tasks so they can maintain their focus on driving returns.
About eflow
For over 20 years, eflow has been providing regulatory compliance solutions to the financial services industry. They currently service over 100 clients across 5 continents, providing both buy-side and sell-side firms with fast, efficient software designed to keep them compliant and competitive. Their offerings include trade surveillance for market abuse, best execution and transaction cost analysis, transaction reporting and eComms surveillance.
eflow's solutions are built with a promise of continued support and compliance. As regulations change, eflow's regulatory compliance suite continuously updates with no disruption to existing client systems, ensuring compliance no matter what.
Boasting sophisticated data management and archiving, case management tools, cross-module integrations and dynamic testing powered by machine learning, the eflow compliance suite is a must-have for firms looking to reduce compliance risk.
Industry Recognition
Get In Touch
Have a question? Want to book a consultation or a system demo? Get in touch by clicking the button below